Shockwave Therapy in Sarasota & Bradenton, FL
Advanced Technology to Resolve Your Heel Pain
Shockwave therapy is a noninvasive treatment option that effectively addresses chronic plantar fasciitis, a main cause of heel pain. Our podiatry team offers shockwave therapy in Sarasota and Bradenton, FL, to help relieve your heel pain and get you back on your feet.
What Causes Heel Pain?
Plantar fasciitis — inflammation of the plantar fascia — is a major cause of heel pain. The plantar fascia is the band of muscle that connects your heel bone to the front of your foot. When this muscle becomes inflamed, it can cause severe heel pain that worsens when you walk.
How Does Shockwave Therapy Help?
Shockwaves are high-speed, high-pressure sound waves that accelerate your body's natural healing process. Shock waves are proven to be effective for reversing inflammation, which is the root cause of plantar fasciitis pain. In addition, treatment with shockwave therapy decreases bone bruising, reduces the thickening of the fascia, and lessens soft tissue swelling.
The treatment itself is painless and noninvasive. For heel pain relief that treats the root cause of your plantar fasciitis, achilles tendinitis, neuromas, or stress fractures, let us show you the restorative effects of shockwave therapy.
Quick Relief With Shockwave Therapy
Shockwave therapy requires no anesthesia and provides quick relief for your heel pain. Traditional treatments for plantar fasciitis include ice, arch supports, stretches, and steroid injections. These conservative methods can resolve heel pain; however, they take longer to provide total pain relief. Shockwave therapy offers faster relief so you can get back to your active lifestyle sooner.
Our podiatrist will use our in-office ultrasound technology to detect and diagnose the type of inflammation causing your heel pain during your consultation. We will then provide a specialized treatment plan for you and determine if you are a good candidate for shockwave therapy.
Learn More About Shockwave Therapy in Sarasota & Bradenton, FL
To experience our 5-star-rated podiatry care, schedule your Comprehensive New Patient Assessment today by calling 941-753-9599 to reach our Bradenton office or 941-366-2627 to reach our Sarasota office. You may also click here to use our convenient online request form. Your appointment includes:
Discuss Your Goals
Review Your Medical History
Thorough Exam
Custom Treatment Plan
We will take the time to explore your unique needs and answer your questions prior to recommending the next steps. We always provide a straightforward plan with a consultative approach to help you feel comfortable and ready to proceed with treatment.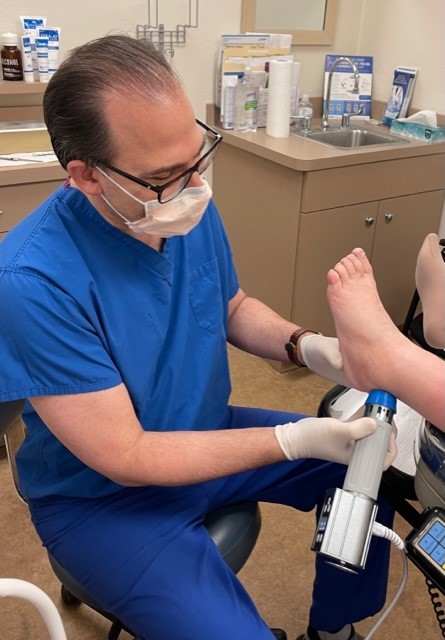 As one of the premier podiatry practices in Bradenton & Sarasota, FL, our podiatrists and team at West Coast Podiatry Center also provide 5-star podiatry care to patients from Venice, FL & the surrounding areas.