The Right Support for Heel Pain
 Here's a big no-no…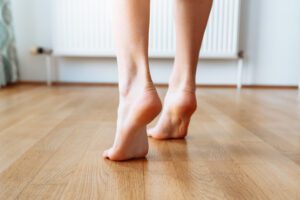 One of the biggest no-no's when you're experiencing pain in your heel is to be on a hard surface without shoes on.
At least 75% of our female patients who have heel pain admit to standing in the kitchen without shoes on.
Standing on any surface, especially a hard one, isn't good when you have foot pain.  In Sarasota, Bradenton and Venice Florida, we live in a region where most homes have tile floors through most if not all of the house.  Unfortunately, as much as we love our sunny Sarasota lifestyle, walking around your home in bare feet isn't always the best idea.
Please don't kill the messenger, but wearing shoes or really good sandals at home can be a game-changer.
We're not referring to slippers — they don't have an arch or raised heel.
An arch and raised heel are important to take tension off the plantar fascia ligament.
If wearing shoes or sandals with an arch has little effect, you either have a more significant form of plantar fasciitis or you could have something similar to scar tissue.
As you may have read in one of our emails, inflammation of the plantar fascia can turn into degeneration of it (which is bad!).
The term is called Plantar Fasciosis.
Plantar fasciosis is sometimes referred to as plantar fasciitis. However, the term plantar fasciitis is not correct. The term fasciitis means inflammation of the fascia, but plantar fasciosis is a disorder where the fascia is repeatedly stressed rather than inflamed.  source: Merck Manuals
We don't know what actually causes it.
What we do know is that being barefoot consistently on a hard surface when your heel hurts certainly doesn't help.
Take every measure you can to get your heel back to 100% pain-free, and then you can periodically go barefoot again.
We specialize in eliminating plantar fasciitis and plantar fasciosis.
(ESWT) Shockwave Therapy
The most advanced non-invasive treatment solution for acute and chronic muscoskeletal pain
West Coast Podiatry Group is very excited to be able to add EPAT therapy as a treatment option for our patients suffering from many acute or chronic musculoskeletal pain and or pain that significantly impairs mobility.
Schedule a consultation with West Coast Podiatry to learn all your treatment optoins.