Dr. Dustin Stroud – Podiatrist in Bradenton & Sarasota, FL
Board-Qualified Podiatrist 
It's not every day you meet a native Floridian in our community. I was born in Melbourne on the other coast and grew up just up the road in Tampa. After watching two dear family members lose valiant battles against cancer, I decided a career in medicine would be the right fit. I am a proud alumn of Florida State University, where I received my bachelor's in Exercise Physiology.
After graduating, I decided I needed a change of scenery and moved to the San Francisco bay area to attend the California School of Podiatric Medicine. "The coldest winter I ever spent was a summer in San Francisco," said Mark Twain. Truer words have never been spoken. My aversion to cold weather brought me back to my home state for residency, where I received rigorous and comprehensive training in medicine and lower extremity surgery over three years at the Miami VA medical center.
I am thrilled to be back on the west coast, barely an hour's drive from where I grew up. I am motivated to keep my patients active and moving to ensure they can function at their desired level. When the simple solutions available have failed, I will develop a treatment strategy individualized to the specific needs of each patient. I remain committed to improving the quality of life of each of my patients and am humbled to participate in their care.
Away from work, I enjoy spending as much time as possible with my loving wife, Karli, and our dog, Georgie, enjoying the outdoors and camping. I am a life-long Tampa Bay Lightning fan, and my passion for the game can only be described as "fanatical." In fact, I enjoy playing ice hockey every week with my teammates on "The Gulfcoast Goons."
Meet Dr. Dustin Stroud – Podiatrist in Bradenton & Sarasota, FL – Schedule Your Appointment Today!
To experience our 5-star-rated podiatry care, schedule your Comprehensive New Patient Assessment today by calling 941-753-9599 to reach our Bradenton office or 941-366-2627 to reach our Sarasota office. You may also click here to use our convenient online request form. Your appointment includes:
Discuss Your Goals
Review Your Medical History
Thorough Exam
Custom Treatment Plan
We will take the time to explore your unique needs and answer your questions prior to recommending the next steps. We always provide a straightforward plan with a consultative approach to help you feel comfortable and ready to proceed with treatment.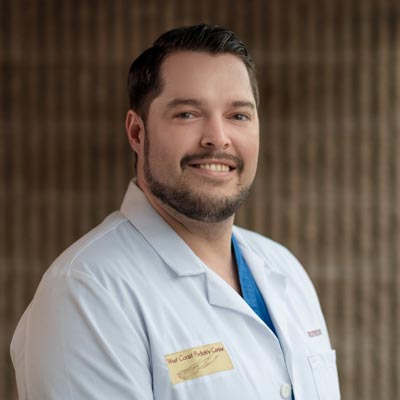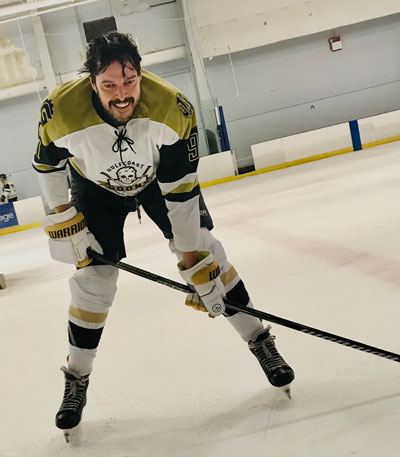 As one of the premier podiatry practices in Bradenton & Sarasota, FL, our podiatrists and team at West Coast Podiatry Center also provide 5-star podiatry care to patients from Venice, FL & the surrounding areas.